Being a fly on the wall can definitely have its benefits, especially when you are in the room with a successful company, like Higher Level Strategies. During a private VIP workshop at the JV Zoo Marketing Mayhem 2014 event, I had the pleasure of watching the two masterminds behind the company create a product that they would soon be launching to help people with becoming a super affiliate.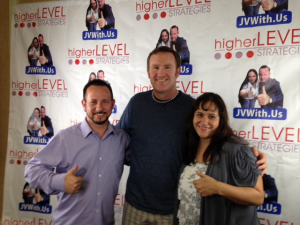 After each video they shot in this production we were able to have a Q & A session about content presented and the idea of cloaking your link was discussed further. So the big question people might have first of all is what exactly is "cloaking your link"?
Cloaking is where you take a website link that might be very long with lots of letters, numbers and symbols and turn it into something much shorter or sometimes even more memorable and appealing to look at.
Another question that online or affiliate marketers who are just starting out might have is "why do I need to cloak my website links?" This is a great question and often relates to the idea of protecting your affiliate link from either being changed by someone else or to instantly be seen as by the viewer as a pitch for something. For example if you show your raw (un-cloaked) link with the affiliate processing company and your affiliate ID in the link, someone might copy and paste the link in with another affiliates ID or without one at all, and thus you would not get credit for the sale or any cookies and tracking pixels left behind which could result in a sale down the road, sometimes even years later if the viewer does not clear the cache in their browsers.
Another major reason for having a cloaked link is the ability to collect analytics on your traffic for that specific link. Some services provide many details in this, while others offer almost nothing. I am going to look at 4 of the commonly used free cloaking sites that are often found in the marketing arena and on social media.
---
Pretty Link Lite
For example when you are looking at a link from Amazon for the Tim Ferriss book, "The 4 Hour Work Week" you get this :
http://www.amazon.com/gp/product/
0307465357/ref=as_li_tl?ie=UTF8&
camp=1789&creative=9325&creative
ASIN=0307465357&linkCode=as2&
tag=httpbasicom-20
which would be impossible to tell anyone you wanted to share the book with as an affiliate (or someone who promotes a product for someone else in exchange for a percentage of the sale)
Now if you pop that into a cloaking software, you can instantly have something that is easier to share like http://TheDavidGardner.com/4HWW if you are using the WordPress Plugin, Pretty Link Lite.
This link becomes much smaller and more appealing to look at when you share it through social media and to your email subscriber list
Sometimes having a longer cloaking link can be beneficial for your readers as they can be easier to remember, especially if you are mentioning them in an audio or video. For example, the product Speedy Profit Creator (which is be re-released soon) was hosted on the Clickbank Network and has an affiliate link that looks like "http://baresales.speedycrea.hop.clickbank.net" while using Pretty Link Lite becomes "http://TheDavidGardner.com/SpeedyProfitCreator"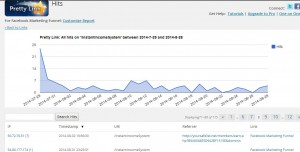 Pros:
Quick and easy to add this plugin and start using with WordPress, analytics provide how many of the clicks are unique (meaning it is a new person on a new computer or IP address clicking versus just the same person clicking the link over and over again), provides daily hits, the IP address where the click originated and often the link website used to click. Another great feature is the time that the click actually came which can help you out in determining when the best time to send emails or posts can be for your market. You are also able to download the CSV file of your campaign for easier searching (this is basically a spreadsheet file)
Cons: Sometimes the clicked website does not show up for some reason or another.
---
Bitly
If you do not have a WordPress blog and still want to use a link cloaker to shrink your affiliate links, the website Bitly.com is a simple to use software that can allow you to easily add a long link and turn it into a very short one.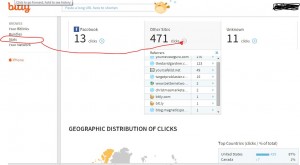 Pros:
Easy to use, Free and has great analytics to show where link clicks were generated (in regards to country and website) and you can see how your clicks are be calculated hourly, daily, weekly , bi-weekly, monthly and all time.
Cons: This is often overused by affiliate marketers who will blast out their links all over the marketplace and draw spam complaints, which then majorly mess things up for other affiliates who are trying to do the right thing, but the original uncloaked website being promoted gets blacklisted
---
Google Link Shortener
Google has also created an easy to use link shortener which can help you decrease the length of your link as well as which you can use at https://goo.gl
Just add a link you want to shrink or cloak, and instantly you have something you can post anywhere.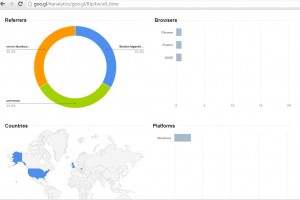 Pros:
Free and easy to use and has some great analytic pieces to find out where you traffic is coming from such as the website where your link was clicked and countries where the click generated. Seeing that this is Google of course it will be something I will be testing out more in the future as they do have a better control of links being used with their own platform compared to others which might be spammed on the networks (see above)
Cons: There is no way to personalize your link and it looks like a bunch of random letters again and would not be easy to tell someone about for them to remember.
---
TinyURL
Another free and easy to use cloaking tool can be found at TinyURL or http://tinyurl.com/ where you can easily cloak your link.
Pros: Easy to use, allows for personalization of links and never expires.
Cons: No tracking including or analytics and if you desired personalization is used by someone one else it is no longer ever available and you must choose something else.
---
Cloak away
There are many other cloaking software platforms out there which you can search for, and experiment with. The key thing is to get out there and take action on your marketing. Nothing will happen with inaction and using cloaking tools may give you the insight you need in your business to help determine where to appropriate funds for your traffic efforts when you can find out where your clicks are coming from.
---
Know someone who could benefit from this content? Share it on Facebook or your favorite social media site! If you enjoyed this post please comment below.
Article written by Dave Gardner
Skype: barefootpainting
Email: DaveGardner@MagneticSponsors.com
Dave Gardner is an Online Marketer, Author, Coach and Teacher who can help you get started with the basic strategies and tools to running an online business. You can find out more about Dave at his websites at MagneticSponsors.com or his blog at TheDavidGardner.com