Long before I was able to vote and long before I had any opinions on politics or social issues, I knew and fully understood that…
I AM AMERICAN. 
I'm not "Cuban-American".  I'm not "Hispanic-American"  I'm not "White-American". I'm not "Southern-American".
I am American. I was born here in America. There is no hyphen in my nationality.
In light of recent events and all the division there has been amongst Americans across social media, Tony Weedn and Christopher Lott decided they wanted to do something about it.
A few days ago, Tony frantically posted in the My Unfair Advantage group. He asked for urgent help in finding a Facebook developer. It was weird cause he needed someone THAT DAY.
He hooked up with Monica Birdsong that afternoon and together they created something spectacular. In just 2 days this little app has been used and shared by tens of thousands of people. IT'S GOING VIRAL AND ITS GETTING THERE FAST.
So what exactly does this patriotic country unifying application do? This tool layers an American flag over your Facebook profile pic as a way for you to  CELEBRATE THE USA.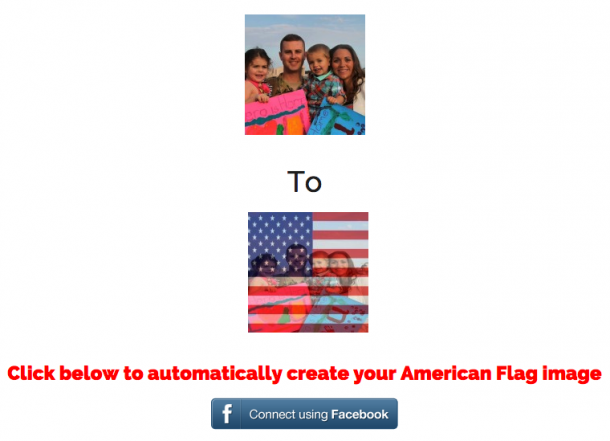 The app is FREE to use and there are NO STRINGS ATTACHED AT ALL.
Tony and Chris are both active duty US Air Force pilots and they're trying to bring all of us together to celebrate the USA this independence day. They want us to set aside our differences and come together under the stars and stripes that unite us all as brothers and sisters, as Americans.
We asked Tony to speak for a few minutes on this weeks My Unfair Advantage episode and he told us the very powerful and emotional story behind the creation of this Facebook app. You can listen here:
I am going to ask that you use the app and layer a U.S. flag on your profile pic for this July 4th weekend in celebration of our independence and our FREEDOM to be different.
EVEN MY BRITISH FRIENDS and friends from other countries should join us in celebrating freedom this weekend!
Be sure to tell everyone that you created your star spangled profile pic at www.CelebrateTheUSA.org