We love helping people make money online.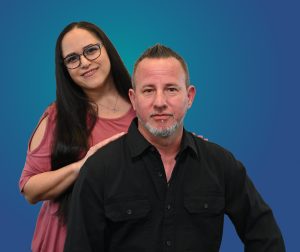 My name is Omar Martin and that's my beautiful wife Melinda. I specialize in building sales funnels, but I also develop software and online training courses for internet marketers. I am a God-fearing man, an author, and a public speaker. My wife Melinda and I own a small company called Higher Level Strategies, Inc., and we have six virtual employees. 
We love our boxer Luna, and we spoil her as if she were our kid. Melinda and I are devout Christians and we are very involved in our church. When we are not working or serving at the church we spend a lot of our time watching action movies together, particularly those of the zombie apocalypse kind, BUT… sometimes I'll watch a romantic comedy chick flick too. We're definitely movie junkies, Netflix and Vudu mostly, but we also love going to the IMAX theater on weekday afternoons so we can have the entire place to ourselves!
Melinda is the CEO (Boss) of HLS, and I'm the CMO (Chief Marketing Officer) so that basically means we're always together. We live together, and we work from home, which is pretty awesome cause we can even "work" from bed once in a while.
I am a public speaker, so we get to travel to lots of internet marketing events. I never thought that I would ever be talking to thousands of people from stages all over the world, but it turns out that I'm pretty good at it. We like going to these offline events because we make them "workations". We usually go a few days early and stay a few days after so we can enjoy ourselves while we're in the event city (wherever that might be.)
My formal education was in medicine. I used to be a PA (physician's assistant) back in NY. I also worked as a paramedic for FDNY (New York City Fire Department) for many years. My life took a totally different path after Sept. 11th, 2001. I wasn't on duty that day, but I lost my partner and friend, David. I loved helping people as a paramedic, but after that event, I knew I would never work in EMS again.
When I came to Florida, I put my pride and education in my back pocket. I was broke, but moreover, I was broken. I was starting my life over from scratch. I accepted the first job that I could get, and it was something really scary that I'd never done before… door to door sales. Yuck! I would've NEVER taken the job had it not been for the really hot chick that interviewed me. Seriously, I ended up proposing to her, so not only did she hire me, but she married me as well! Oh, and she taught me how to sell too.
Melinda and I worked really well together, and once she taught me her "mad sales skills," we were unstoppable!  No one could beat our sales numbers. We went on to build some huge sales teams, and we opened several offices together, but the road was long and hard. We were traveling sales reps going door to door, city to city, state to state. We leaned on each other to stay focused and keep our dreams alive. It was so difficult that in 2003 we found ourselves back up north in Lindenhurst, New York, homeless and selling coupon books just to survive.
The door-to-door business kept moving us around the country, and by 2006 we'd had enough, so we decided to settle down in Florida again, the state where we first met. We entered the "corporate workforce" again, and I took a job as a sales manager running a call center, while Melinda became a collections rep. In 2007 we got married, bought our first home, and adopted our first dog Romeo (February was a busy month). It was all new and exciting at first, but by December, we were up to our eyeballs in debt, and I started looking to sell some stuff from our garage on eBay just to make some extra Christmas money. That's when our online journey began.
We tried the eBay thing. It wasn't working for us, but I knew others were making money at it because I would see these colorful little "power seller" badges. I'd get so frustrated wondering how the heck they were doing it till the day I finally did a search on eBay for…  "How To Become A Powerseller" – the #1 eBay listing for that search term was an eBook called "The 90 Powerseller Challenge" by some dude named John Thornhill, and it cost $12. I bought it, and in that instant, my life was changed.
I never read the book, but that eBook purchase changed the course of our entire lives. You see, what I bought was a PDF, and after I paid, I was given a download link. It blew my mind. This was a totally new concept for me back then. Someone just sold me a freaking LINK at 3:00 AM. I was instantly hooked, and at that moment, I knew that I would become a millionaire selling LINKS (digital products) online.
The next day I received an email from John, the author of the book, and he sounded like we'd been friends for years as he recommended another eBook. I bought that one too, and then the next day. I was fascinated as I learned what Email Marketing was, and I couldn't get enough of it. I started researching to become a marketer like John. Things were quite harder without all the resources there are today, and remember, we were still broke, so I struggled.
I kept Melinda in the loop, and she always encouraged me even though she didn't have the faintest clue of why I was locking myself away in the spare bedroom every night. I tried to explain that I was building an online business selling eBooks, and she was supportive, but she really wasn't interested in knowing much about it at first. Then, John Thornhill recommended a product by Mike Filsaime, and now I was on two mailing lists! There were a lot of sleepless nights in the 18 months that followed, but once our online business was making $30k per month, I quit my job.
I eventually met Mike Filsaime at an event in Florida, and we became good friends. Mike and I launched several products together, and we even founded Higher Level Strategies, Inc., which Melinda and I later purchased from him. After our first 6 figure product launch, Melinda also quit her job and started working from home to help build the business. She became instrumental in growing the company to seven figures. She started by handling support tickets and managing finances, but now she does pretty much everything!
We've launched dozens of digital products online, we've got thousands of students, and we have gotten hundreds of testimonials from people who have been able to add value to their lives by using our online tools and strategies. We've even had the privilege of helping several students become millionaires themselves. This industry has been a blessing to us. We look forward to getting to know you personally and helping you grow your online business as well!