This is actually a pretty cool story that you might enjoy and it's about 4 months overdue… lol
You may not know this but I am a HUGE Mixed Martial Arts fan (MMA). The foremost leauge of MMA is the Ultimate Fighting Championship (UFC). I love watching the Ultimate Fighter reality show as well as keeping up with the stats and I order all the pay per view matches as well.
My friend Devin got me hooked on MMA and UFC about 6 years ago and I've been a silent fan ever since. Devin and I love talking about the fighters and we place our own friendly wagers on the fights just for fun. Last year when I was launching my Sales Page creation product I had to come up with a cool theme and I figured.. "Why not call it Kick Ass Sales Pages?"
I had my boy Steve over at Planet-Divinity Graphics hook up some cool fighter images for the website and my other buddy J.I. Starr helped me create a fun sales video. Well, to open the video I used a small clip of a UFC fight from the Ultimate Fighter reality show. I launched the product and it did really well. To this day I still get tons of compliments on the video.
Here's the part where I nearly soiled my pants… On new years eve 2008 going into 2009 I was at a party with my family and my cell phone rings from a New York number. I figured it was just a friend from New York calling to wish Melinda and I a happy new year. Well it was… It was actually my good friend and colleauge Frank Pugliese who is Mike Filsaime's General Manager at the New York office.
Frank said "Omar- I am standing next to someone that wants to have a word with you." My reply was "Sure Frank put him on… " next thing I hear is "Hey you little twerp, where do you get off putting a video of me on your website, what if I fly down to Florida and kick YOUR ass? Huh? Huh?"
Feeling a little tipsy after a few rum and cokes naturally, my response was "Hell yeah homie- Bring it! I'm right here kid!" … then I asked "By the way.. who is this?" Low and behold, I was actually speaking with Matt Serra the former UFC welter weight champion of the world! Talk about a humbling experience!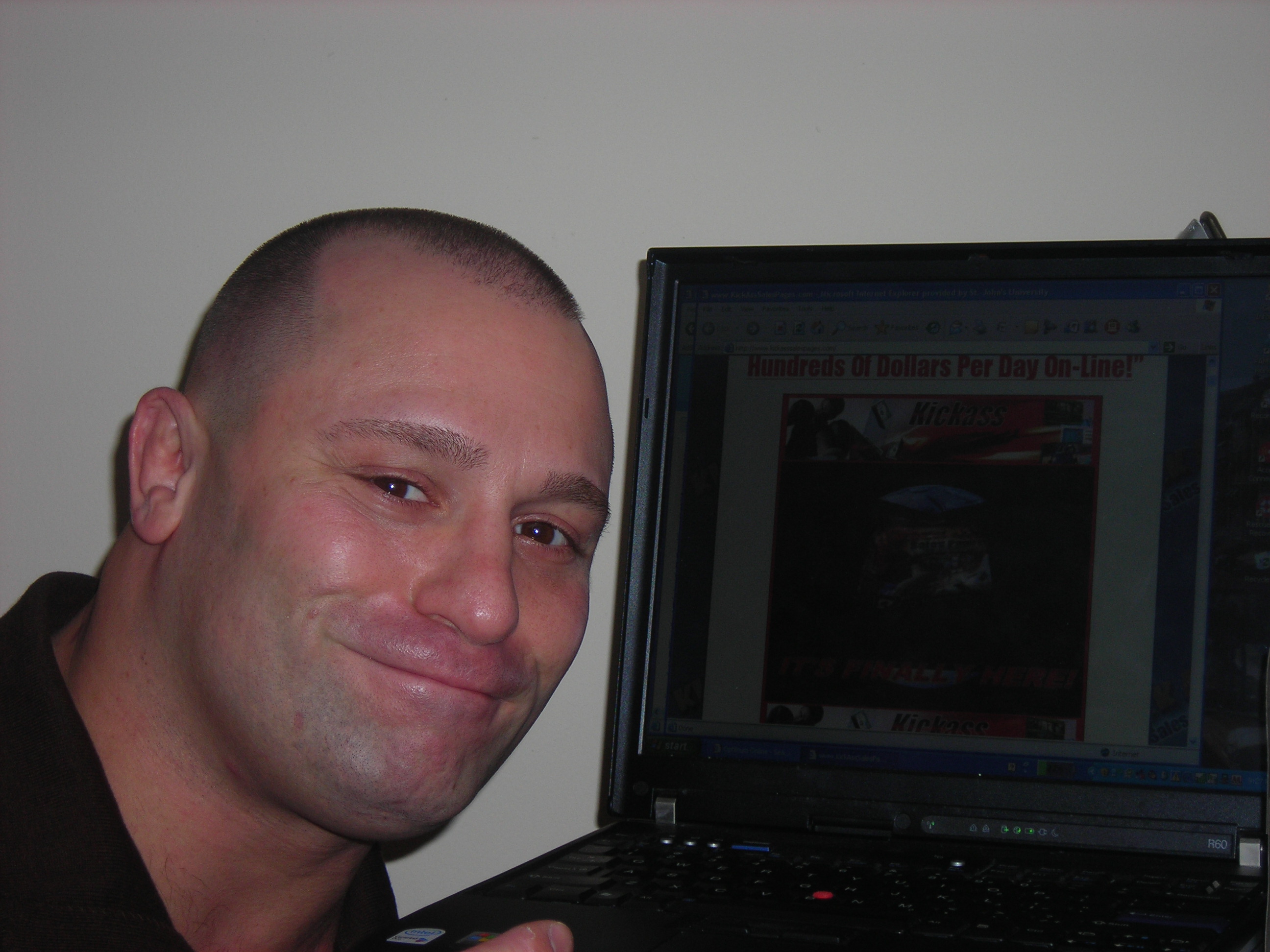 Fortunately for me Matt is a great guy and has a good sense of humor! He went on to tell me how much he enjoyed my video and how he liked my website. Then Frank even took a picture of Matt looking at my website on his laptop. (See Picture Above) – Anyway – I got to speak with Matt Serra for a few minutes about the UFC and his upcoming bout (at the time) with George St. Pierre who he lovingly calls "Pepe Le Pew."
As it turns out Frank Pugliese, Matt Serra, and Mike Filsaime have all been friends for many years. Frank happened to be at Matt's house for New Year's eve and he decided to play a practical joke on me!
Talking with Matt was a great experience for me and he even invited me to come hang out with him at his gym in Long Island NY. What a great guy. It's a small world. Thanks Frank and Matt for being so cool!
Regards,
Omar