I think this is long over due in more ways than one. By "This" I mean this blog post. Something happened to me yesterday that interrupted my day. It made me step back for a minute and take a birds eye view of things. By things I mean everything, my life, my health, my possessions, my business, my successes and my set backs. I pondered long and hard.
Would you believe that all of this pensiveness was provoked by the contents of an email? Yes – and whats more surprising was the sender of that email – "Ebay." of all people. This is what they sent me: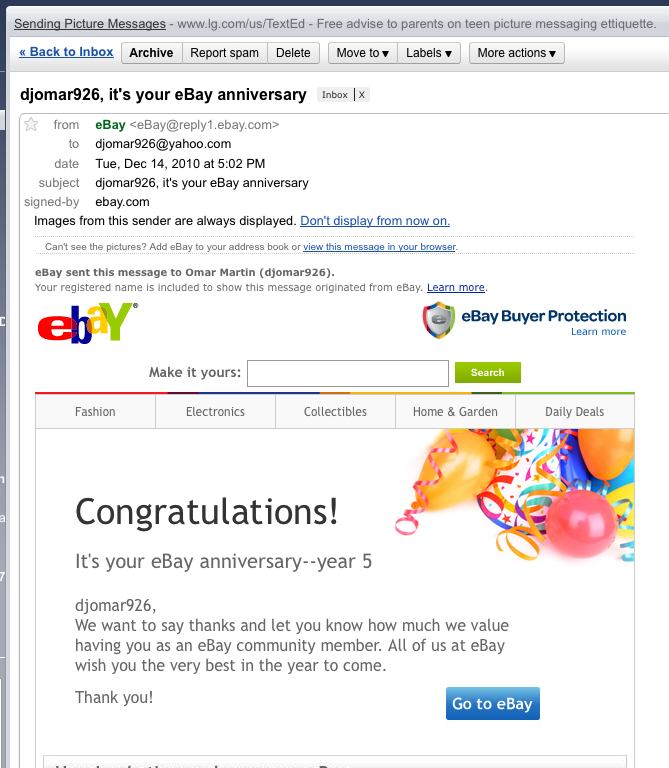 This was a congratulatory email for being a member of Ebay for 5 years. Why is that so special you might ask. Well, I'm not a big Ebay guy… matter of fact I don't really do much on Ebay these days. Would you believe that on that day 5 short years ago I was at the end of my rope?
That day was Dec 14th 2006, after leaving the medical field and moved to florida I had fallen into quite a rutt. I was making good money but I was in debt up to my  eyeballs and I wasn't going to be able to buy any Christmas presents. As a matter of fact I couldn't even afford Christmas cards. That's where my journey began.
Like millions of people, I turned to ebay to try and make some quick cash. First I thought I could sell some old stuff I had in the closet. Later I learned of, ebay as a business and set out to become a power seller. Soon thereafter I came across my very first Ebook. The concept of slling something digital on Ebay totally ROCKED my world. It became my goal to get good at it and eventually I found a man who called himself "PlanetSMS" (to this day I still don't know what the heck that means)
But anyhoo… This Planet SMS guy specialized on selling ebooks on Ebay and he seemed to be making a killing at it so I decided to learn from him and I purchased  several of his product. I started making a little money with ebooks but not much. Frankly… the "Big" picture eluded me. I just couldn't wrap my head around selling an ebook for pennies. I mean one would have to sell thousands per month to make a living.
Finally I scraped a couple of nickles together and Invested in this guys coaching program. That made all the difference in the world for me. I went on to create dozens of my own ebooks and digital products, within approximately 18 months  I was able to quit my job and also my wife quit hers. We had built a business that replaced both of our incomes and has been growing exponentially ever since. This past year we did well over half a million dollars in sales and we estimate that 2011 will be our first Million Dollar year with God's help.
Sometimes things happen in our life that literally "Divide Time" here's what I mean… Some events in are so significant… that when you look back at things you use them as a marker in your life line. For instance your wedding day.
When you look back at your life you say.. "That was before I got hitched" or you say "That was AFTER we tied the knot"  …See what I mean?  That single event was so important that it Divided Time.
PlanetSMS literally Divided Time for me.  He divided time when I found him on Ebay back in 2006. Thats why that email from ebay stopped me cold in my tracks yesterday. It reminded me of just how much my life has changed since I met PlanetSMS.
So who exactly was that Ebay crusader masked with an extra terrestrial screen name PlanetSMS? His name is John Thornhill. An internet marketer from the UK and he has been a true inspiration for me. I have literally absorbed just about everything he's ever taught and I proudly continue to consider him my mentor to this day.
John has just released a product called Affiliate Promo Formula. This is probably the most robust training course John has ever produced and it leaves no stone unturned when it comes to making money online by leveraging OPP. Other People's Products. The concept itself is brilliant, one can make money without having to create their own products. However the proper methods often escape aspiring entrepreneurs.
John has put an end to all the guessing games and frustration. APF is your step by step guide to success. I've even put together a complimentary bonus valued at over $3000 for those of my readers that chose to invest the $37 in John's Affiliate Promo Formula. John Thornhill is definitely a man you should follow if you want to make money online. Click below to earn more.